Short way to large form
Since version 3.13.0 Visforms comes with a form factory. It enables a new form with all its fields to be defined centrally and very quickly in one place and created in a single step. The aim of this tool is to make the basic settings as clear as possible in order to quickly get a complete form and, if necessary, sample data.
Predefined field lists
The form factory comes with a number of predefined field lists for commonly used form types. Simply select the list that suits you best and adapt it to your requirements with just a few mouse clicks. In a clear list
delete fields you don't need,
add new fields,
change the field order
and more.
For individual forms, simply start with the almost empty "Individual form" list. Initially, this only consists of a reset and a submit button.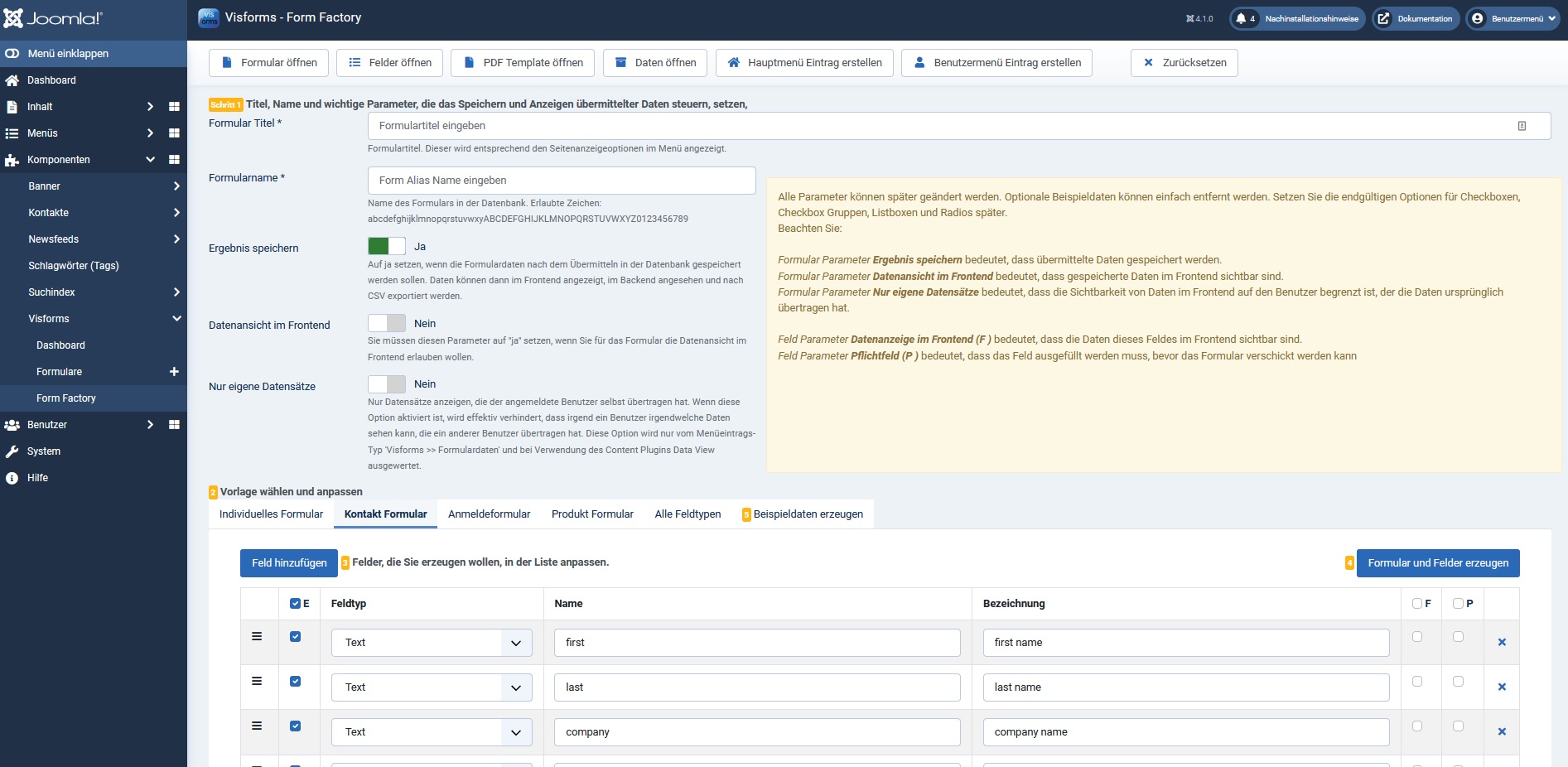 Follow the orange steps
When working with the Form Factory just follow the orange numbered steps 1 to 5:
You assign a name for the form,
determine whether the transmitted data should be saved,
create a list of form fields you need,
generate the entire form with one click and
generate any number of sample data sets if required.
Basic settings
For each field you can make the elementary settings in the list very clearly:
field type,
field name,
the label,
Required field.
Finishing work later
After the basic form creation, the individual fields are fine-tuned using the large number of individual field options that Visforms offers you. If necessary, you can do this later directly in the configuration of the respective field.
The fine adjustment of the form with the large number of special form options is then done later in the form configuration.
Generate sample data
After the form has been generated, you can generate sample data for the form. This is very useful, for example, if you want to create and test PDF templates for the form.