Individual field labels
Note: These features are part of the Visforms Subscription and are not included in the free Visforms version.
The Visforms Subscription adds three options to form fields. These enable the display of data to be further customized.
You can assign your own field label for use
in the emails,
in the header of the CSV export file and
on the summary page of multi-page forms.
You can find these options in the field configuration on the "Advanced" tab in the right column under the "Usage" heading.
The field label options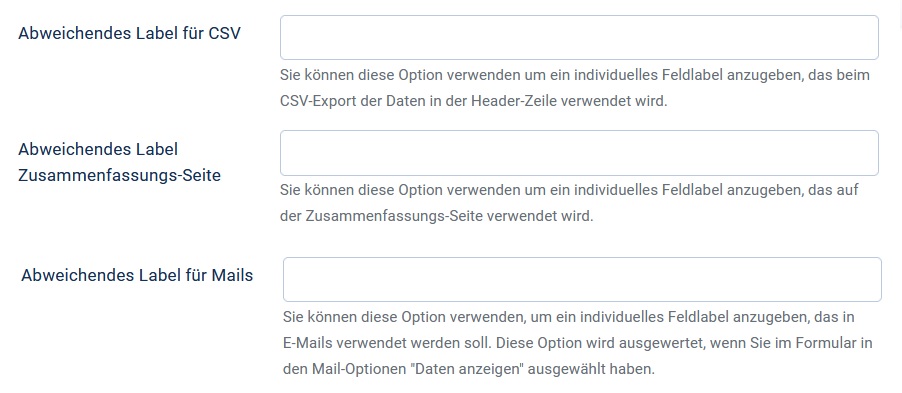 The benefit of individual field labels
The following field types or field options are often used in the form to visually structure the form:
field separator,
"page breaks" rendered as an accordion,
custom text of the field.
This information is not available in the email. You can use the email form option "Send data" to send all user input in the email with very little effort. In this case, Visforms appends the user input as "Field label: User input" at the end of the email. With extensive forms that have been structured in the manner described above, this can quickly become confusing. Especially when short or non-self-explanatory or ambiguous field labels were used.
An additional custom field label used only in the email provides a low-effort way to resolve the issue. You can now provide each field with a unique email label that contains additional information.
Likewise, custom field label for CSV export and custom field label for summary page of multi-column forms can be useful. You can now more individually configure the export file/summary page independently of how the fields are displayed in the form.